Pre-owned auto sales revving up on policy support
Share - WeChat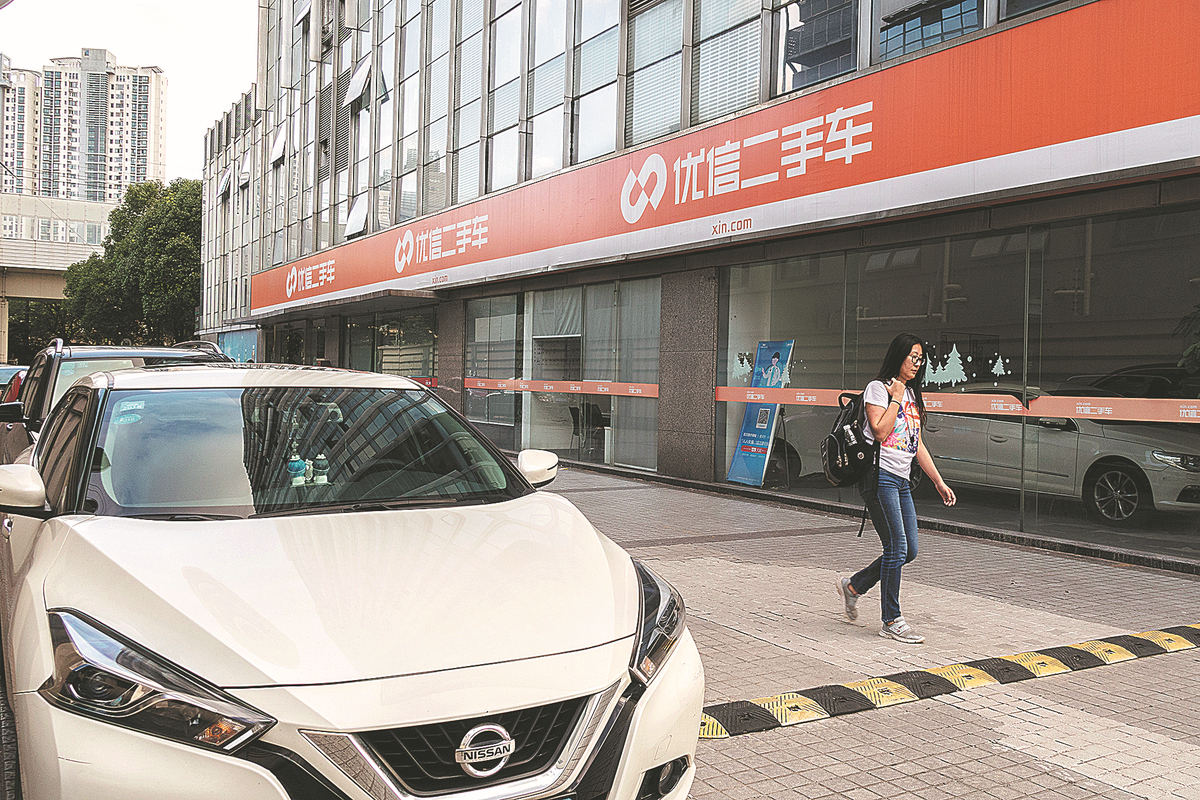 China's secondhand vehicle sector is expected to witness robust growth in the years to come thanks to a series of favorable policies to facilitate the circulation of used cars alongside online used car dealers' continuous efforts to bolster online transactions by improving the supply chain system, industry experts said.
The China Automobile Dealers Association said a total of 17.59 million used cars were sold in China in 2021, up 22.62 percent year-on-year, with the transaction value reaching 1.13 trillion yuan ($159.2 billion), up 27.32 percent.
The country's used car sales saw continuous growth in the April-August period, said the association, highlighting the demand recovery in first-tier cities and neighboring areas as the country has accelerated steps to facilitate the cross-regional transfer of secondhand vehicles.
China will implement a series of stimulus measures such as scrapping unreasonable regulations on secondhand vehicle sales and bolstering circulation of used vehicles as part of its broader push to spur car consumption, said a notice released by the Ministry of Commerce and 16 other central government departments in July.
China is the biggest used car market worldwide and the largest manufacturer of automobiles. With a rising number of consumers shifting their preference towards online modes of purchase, used car dealing platforms, including Uxin Ltd, Guazi and Renrenche, are betting big on the burgeoning segment.
Uxin has heavily invested in enhancing its used car supply, especially in vehicle acquisitions, inspections and reconditioning.
"We have established acquisition channels to purchase used cars from individual consumers, auction platforms, auto manufacturers and car dealerships," said Dai Kun, chairman and CEO of Uxin.
Direct purchases from individual consumers accounted for more than 30 percent of the company's total acquired vehicles in the fourth quarter of 2021, and the increasing proportion of such direct purchases helps further reduce acquisition costs, Dai said.
The company has expanded its presence in the offline used car market by opening two vehicle inspection and reconditioning centers — a type of warehouse superstore — where customers can have a direct in-store experience like visiting, selecting, consulting, test-driving and purchasing, in Xi'an, Shaanxi province and Hefei, Anhui province.
Uxin reported revenue surged 148.9 percent year-on-year to 1.6 billion yuan for the fiscal year ending March 31, while transaction volume reached 15,755 units, up 49.1 percent from 10,566 units.
Dai said the used car industry is an integral component of China's circular economy, and the circulation of used cars plays a critical role in lowering production waste, reducing pollution and improving resource utilization.
Internet-based sales channels can overcome geographical restrictions of secondhand car trading so that consumers can easily choose high-quality and low-priced used vehicles.
"China's used car market is experiencing a golden age of growth. The country became the world's largest auto market in 2021, with more than 17 million used vehicles sold, and boasts tremendous growth potential compared with developed markets," Dai added.
He said the company will upgrade its supply chain information system, artificial intelligence-powered pricing system and intelligent inventory management system to continuously optimize operational efficiency and control costs.
Cui Dongshu, secretary-general of the China Passenger Car Association, said the latest efforts to remove unreasonable restrictions on secondhand car dealerships will give a strong boost to the circulation of used vehicles, enhance the utilization rate of resources, and further unleash the consumption potential of such vehicles.
Guazi, a used car platform of Beijing-based online car trading company Chehaoduo, said its online transactions achieved rapid growth in August, and about 50 percent of car dealers in the cities of Zhengzhou, Shenzhen, Nanjing and Hefei have switched to online channels to expand used car sales.
The company combines in-depth big data analytics and artificial intelligence technology to implement standardized evaluation and intelligent pricing mechanisms for used cars.
In June 2021, Chehaoduo announced it had completed a new round of financing worth $300 million, led by H capital. Sequoia Capital China and IDG Capital also participated in the funding. It has raised nearly $4 billion in the past nine funding rounds.
Luo Lei, deputy secretary-general of the China Automobile Dealers Association, said the used car market will continue to grow, as problems that hinder the circulation of used cars, such as cross-provincial transfer restrictions and added-value taxes, are gradually resolved.