Time to chill out
Share - WeChat
Winter looms as the fall prepares to depart, with a colorful and harmonious farewell, Zhang Lei reports.
Frost's Descent, the poetic term for fall's last solar term, is often deemed a prelude to winter. When the sun reaches the celestial longitude of 210 degrees, direct sunlight point is far from the Northern Hemisphere and its ability to heat is diminished. A distinct chill appears in the air. This year the solar term falls on Sunday.
Colors on the streets, too, change with a touch of orange-red appearing.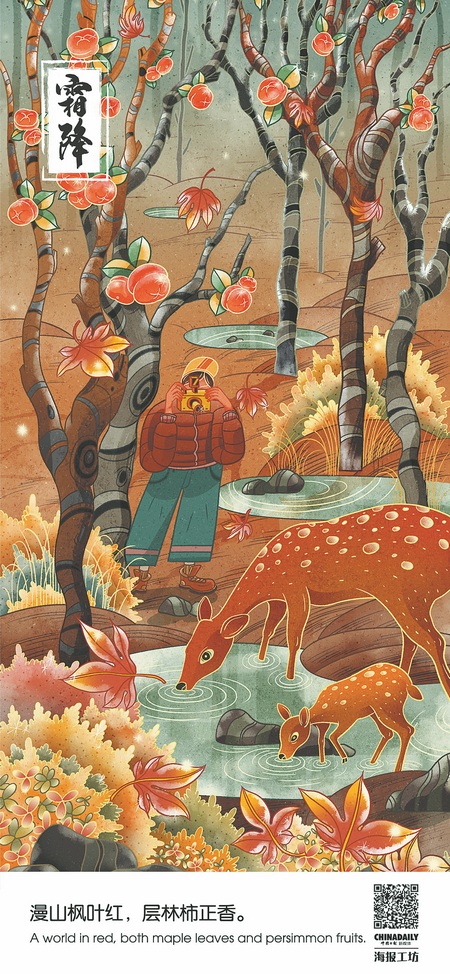 In a fruit store at a street corner in Beijing, the brightly colored persimmons take on the important task of attracting customers with their highly saturated "orange beauty"; on the city's supermarket shelves, the frosty persimmons release their sweet scent; milk tea shops launch their specially blended persimmon drinks in the hope of drawing in more customers; and even in barbecue restaurants, eating hot charcoal-grilled persimmons with a small spoon is more than just a passing fad.
In many parts of the country, especially in the north, there is a custom of eating persimmons on the day of Frost's Descent. The locals believe that eating persimmons on this day will prevent a runny nose in the winter and prevent lips from becoming dry for the entire season.
Zhu Yuanzhang, the founding emperor of the Ming Dynasty (1368-1644), came from a poor family. One year, on Frost's Descent, Zhu, who hadn't eaten food for two days, was so hungry that he almost lost consciousness. When he stumbled into a small village, his eyes suddenly lit up when he saw a persimmon tree growing in a rotten tile pile.
Zhu ramped up all his strength to climb up the tree to gorge himself on persimmons, saving his life. Later, after he became the emperor, when he was leading his troops through that very village on the day of Frost's Descent, he found the persimmon tree was still there, and it was still covered with bright red persimmons.
He slowly took off his red gown, climbed up again, solemnly put the gown on the tree, and named it Lingshuang Hou, or frost marquis.
After the story spread among the people, the custom of eating persimmons on Frost's Descent was born.
Most Popular