A real understanding
Share - WeChat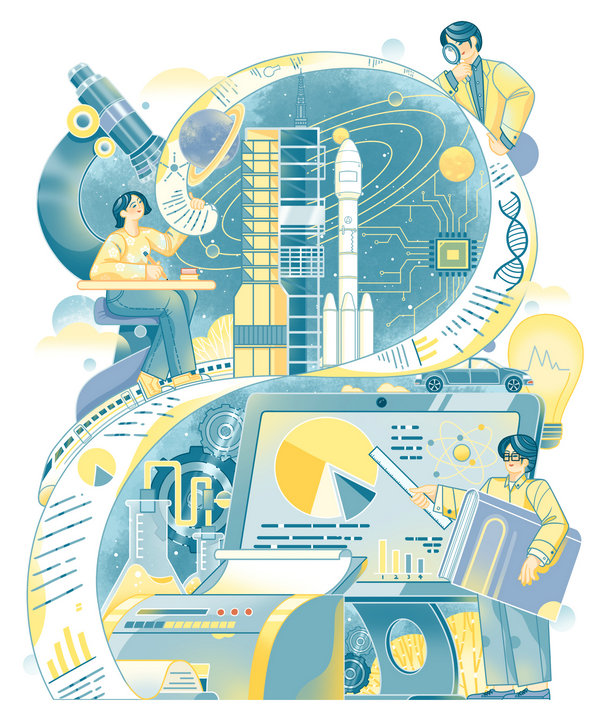 The ancient Chinese concept of jingshizhiyong promotes studying existing conditions to produce the best results, Fang Aiqing reports.
Editor's note: China's ancient wisdom informs its contemporary leadership. In this series, China Daily explores how age-old principles and philosophies continue to steer the country's governance.
Before the 20th National Congress of the Communist Party of China opened on Oct 16, delegate Jiang Lijuan, Party secretary of Xiajiang village, Chun'an county, East China's Zhejiang province, talked about the area's development over the past two decades under the continuous attention of Xi Jinping, general secretary of the CPC Central Committee.
In April 2003, Xi, Party chief of Zhejiang at the time, visited the underdeveloped village for the first time, helping locals build biogas digesters, and stressed the importance of ecological conservation. Over the years, he visited a further three times. The village has since developed modern agriculture and tourism and, by 2021, per capita disposable income there had increased to 14 times that of 2003, Jiang says.
In 2016, Jiang, then a 27-year-old Hangzhou-based interior designer, returned to her village, turned her house into a homestay and, in November 2017, started a business. The design and marketing of the homestay is intended to attract young urbanites.
Jiang, born in 1989, incorporated her childhood memories into the homestay services — picking tea, digging sweet potatoes, catching fish from the stream, pounding maci (sticky rice snack), making soybean milk and wrapping zongzi (glutinous rice dumplings) — to arouse an idyllic sense of nostalgia for guests.
The homestay was such a success that, before long, a whole industry evolved and a growing number of villagers began to benefit from it. Then, in 2020, she took up her current position to help bring further improvements in the village and promote its green development methods in 24 nearby villages.
Once, younger generations in Chun'an, a mountainous area best known for Qiandao Lake, struggled to make it to the city for higher education and quality jobs, but now the towns and villages are counting on their young minds for a more vibrant future.
Their decisions echo the ancient idea of jingshizhiyong, a saying stating that one's study should meet present needs (jingshi) and be applied to practice (zhiyong).
It emphasizes the tradition of paying attention to the realities in society, order and norms, and valuing current affairs and practice, says Zhou Yunlei, a professor of the School of Chinese Language and Literature at Beijing Normal University.
Most Popular