Zhang joins the 100 club
Share - WeChat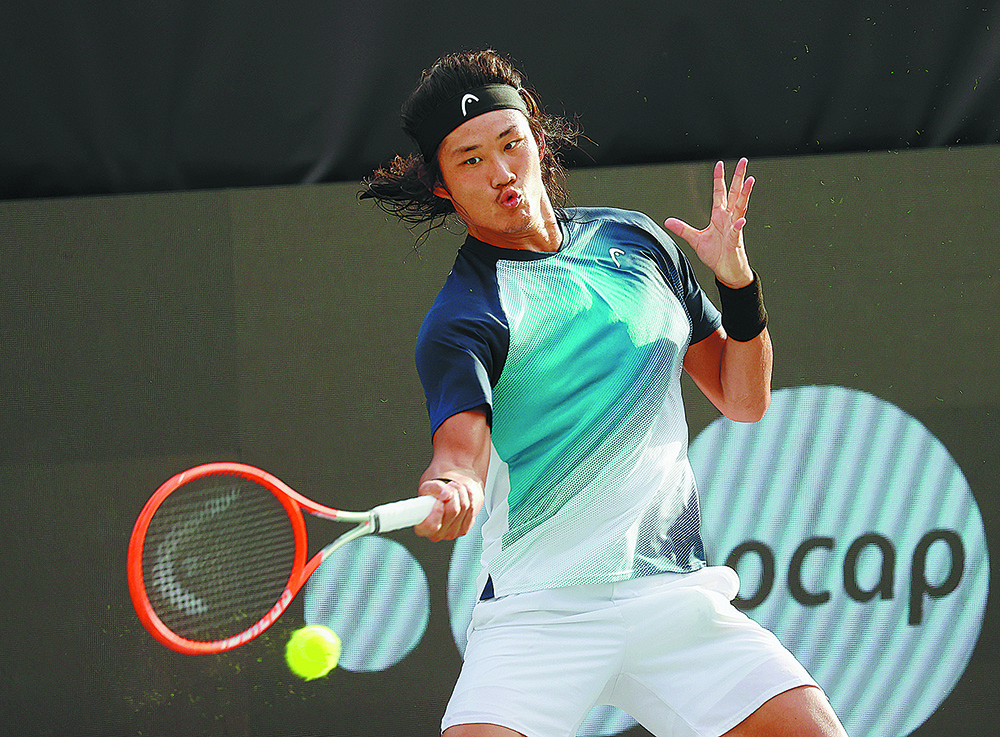 Chinese star achieves historic breakthrough in world rankings
After etching his name into tennis history, Chinese ace Zhang Zhizhen hopes there are still more breakthroughs to come from his late-blooming career.
Defined by glory in the women's game for over a decade, Chinese tennis is finally savoring success on the men's tour after Zhang became the first male Chinese mainland player to crack the world's top 100 following a quarterfinal run at an ATP 250 tournament in Italy last week.
With four solid wins, including two in the qualifying rounds, Zhang stormed into the last eight in Naples on Thursday to earn his second quarterfinal appearance at an ATP Tour-level event and rise to No 97 in the official rankings on Monday.
Despite a 6-4, 3-6, 2-6 loss to American Mackenzie McDonald on Friday, Zhang's top-100 breakthrough garnered resounding praise back home, with the Chinese Tennis Association hailing it as the "realization of a decades-long dream".
"To reach the top 100 in men's professional tennis has been a target of Chinese players for generations," the CTA said in a congratulatory letter.
"Today, all the sweat and pain through the decades paid off after you helped Chinese tennis reach a new milestone.
"For sure, it will inspire an entire generation to march forward and embrace new challenges with confidence, discipline and resilience."
Having been ranked No 321 in January, Zhang credited increasing competition from his peers and his own renewed commitment to the game for his surge.
"It cannot be done by just one player or one generation. It's the result of accumulated efforts after trying for decades," Zhang said in an online interview on Sunday.
"Now is a great moment for Chinese men's tennis with several of us all competing in a healthy environment. We chase one after another on the court while staying quite close and motivating each other off the court," Zhang said of the collective progress of Chinese men, including 117th-ranked Wu Yibing and teen star Shang Juncheng, this season.
"It also partially goes down to my plan of settling down overseas to play on a full-year international schedule," said Zhang, who left his newly married wife at home in December to train and play abroad, adding up to 10 months so far.
With two more ATP Challenger Tour events to play in Italy and Slovakia, Zhang expects to finish the year strongly and return home motivated for offseason training.
"I am looking to improve my fitness level and my movement on the court during the winter break," said Zhang, who first drew international attention in 2017 when he reached the quarterfinals of an ATP Tour event in Shenzhen.
Having put his wedding leave on hold for his career, spending time with his wife will be Zhang's top priority as he enjoys a well-deserved offseason break — although a fitness trainer will be on board back home to keep him on his toes.
"Hopefully I can keep working out during my (delayed) wedding leave. I have to improve the power of my weapons to meet the higher standards of the top 100," he said.
"My next goal will be the top 50, but I will start by targeting the top 70 and preparing for a strong run in the main draw of the Australian Open," said the 26-year-old Shanghai native.
Boasting a fierce forehand and strong serve, Zhang, who stands 1.93-meter tall, has what it takes physically to push into the sport's top echelon. However, his newly developed mental toughness and consistency have made the difference this year.
"I think in 2017 I was able to do it once for a long while and keep that level for maybe three matches at most. But since the second half of this year, I feel like I can maintain my level consistently," he explained.
Zhang's resilience was underlined on Thursday in Naples when he had to win two matches within 12 hours to advance after beating Hungary's Marton Fucsovics in a delayed first-round match before routing Argentina's No 39 Sebastian Baez, both in straight sets.