Gilead Sciences participates in CIIE for first time, brings new products
Share - WeChat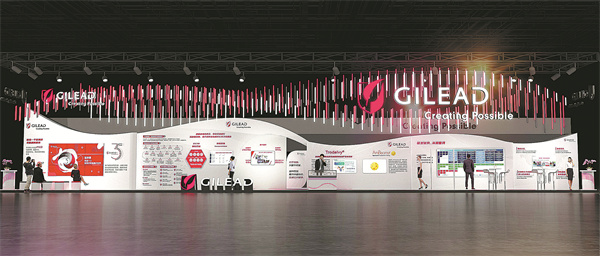 The fifth China International Import Expo, kicking off on Saturday, is offering great opportunities for internationally leading pharmaceutical company Gilead Sciences to showcase its new discoveries in virology, oncology and mycology sciences, the company said.
This year marks the 35th anniversary of Gilead Sciences' establishment. With the vision of "creating a healthier world", the company has been committed to promoting drug innovation in a bid to treat diseases such as HIV, viral hepatitis and cancer.
At its booth during the fair, the company is exhibiting a group of new launches in China, looking forward to setting up more partnerships to improve new drug accessibility and eliminate barriers for the public to pursue their well-being and health, and promote the construction of the"Healthy China 2030" initiative with joint efforts.
Gilead Sciences launched China operations in 2017 in Shanghai. In recent years, it has grown from zero to a large-scale company with more than 600 employees. Nine of its products have been launched in the Chinese market and seven of them have entered the national reimbursement drug list. It has launched businesses across more than 80 cities in China.
The CIIE is an excellent platform for a company to expand the opening-up scale, set up cooperative partnerships and achieve win-win results, the company said.
The company is tapping into the field of oncology and mycology in China. So this is a good time to show their past achievements and more importantly, their future development plans, the company said.
Most Popular