Bird guardian
Share - WeChat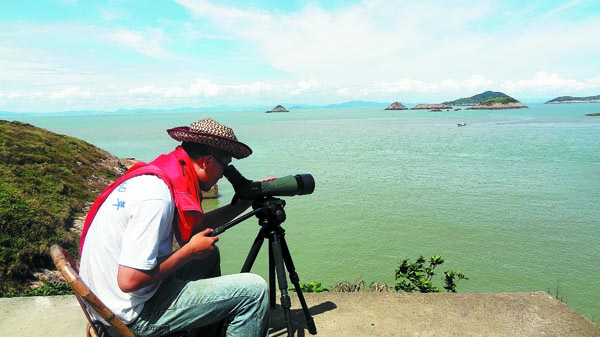 Alone on a barren islet, Ding Peng and colleagues bring the Chinese crested tern back from the brink of extinction, Yang Feiyue reports.
From time to time, Ding Peng makes his way across the waves to Zhongtiedun, an islet that dots the vast East China Sea.
He has made a point of coming back to visit the small island, which covers a mere 0.02 square kilometers in East China's Zhejiang province, to greet and observe the Chinese crested terns that he has helped to pull back from the brink of extinction over the past decade.
The avian species is near-legendary for its small numbers and wandering migration routes. It is listed as critically endangered by the International Union for Conservation of Nature. There are currently fewer than 150 adult Chinese crested terns worldwide, according to Ding.
The medium-sized aquatic bird is 30-40 centimeters long, with a black crown, gray plumage and a white body. It was first discovered in Indonesia's Halmahera Island by Polish ornithology pioneer Heinrich Bernstein in 1861. It has since been sighted only in small numbers around the world.
The birds were spotted in 1937 on islands around Qingdao, capital of East China's coastal Shandong province; however, there were no further sightings for the following 63 years, which led to the assumption that the birds were extinct.
It was not until 2000 that a bird photographer spotted several pale terns with black-tipped yellow bills among a group of great crested terns on the Matsu Islands off the coast of Fujian province.
It immediately stirred a storm in international ornithology circles. After being verified by academics, the birds proved indeed to be the precious Chinese crested terns.
Most Popular